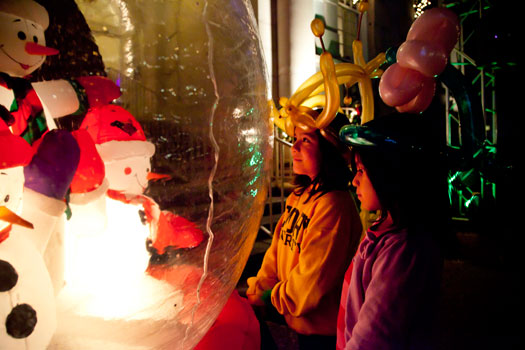 The Night of Lights celebration at Emory hospitals is a community tradition.
By Kelly Gray
The need for charitable collections and donations is on the rise, especially during the holidays. Emory is coming together to support the community and make the holidays special for those less fortunate. 
Oxford College has set up Santa's Workshop in the Student Center on Wednesday, Dec. 7. During the workshop, student elves will wrap gifts and assemble 30 bicycles that will be given to local foster children. Oxford faculty, staff and students brought in clothing and toy donations for needy children at a local elementary school.
The Center for Women is collecting books for women and their children until Friday, Dec. 9 on the third floor of Cox Hall. Educational textbooks will be accepted during the holiday book drive to provide reading options for incarcerated women at Emanuel Women's Facility classrooms and workshops.
Through Friday, Dec. 16, the Woodruff Health Sciences Center is collecting children's books to benefit kids who are sick over the holidays. Books can be dropped off at the front desk on the fourth floor of the Woodruff Health Sciences Center Administration Building. The books will be donated to Children's Healthcare of Atlanta and the Emory-Children's Center.
The Office of Communications & Marketing is collecting donations for The Open Door, a group that provides services to the homeless. Donations can be made through Wednesday, Dec. 21 in 1762 Clifton Road, Plaza 1000. View a list of items that are needed, including backpacks, blankets and shoes. 
Emory Barnes & Noble has drop boxes at the main bookstore in support of One Planet program. The program allows students to donate (rather than discard) unwanted textbooks by placing them in the One Planet drop boxes near the campus bookstore during regular business hours. Remote locations are set up on the Cox Hall Bridge, Evans and Few Residence Halls and on the Clairmont Campus.
The annual fall campaign for Emory Community Giving, which runs through Dec. 31, raises funds for eligible nonprofit groups that address a variety of health, human-service, community and environmental needs.  Employees can donate money through payroll deduction, credit card or check.  Learn more at www.communitygiving.emory.edu and see a list of 2012 charitable giving partners.
Through Monday, Dec. 12, the Emory Vaccine Center is collecting new unwrapped toys, gift cards, children's books, coloring books and crayons, and treats of all kinds for the children's holiday party sponsored by AID Atlanta. Also, charitable food contributions can be made to the food pantry run by Open Hand at the Ponce Clinic. Donations are being collected in containers placed throughout Emory Vaccine Center locations.  
The Development and Alumni Relations information services group will be collecting new unwrapped toys and books to donate to Ronald McDonald House, through Tuesday, Dec. 13. Items are being gathered in 1762 Clifton Rd. Building, Suite 1400.
Employees at the Miller Ward Alumni House are collecting donations on behalf of the Atlanta Community Food Bank and Malachi's Storehouse. Food items, toys and gift cards can be donated to benefit Malachi's Storehouse through Friday, Dec. 16. Also through Tuesday, Dec. 20 food donations will be accepted to aid the Atlanta Community Food Bank.
Editor's Note: Know of a holiday giving opportunity on campus that's not listed here? Contact Kelly Gray to add it to this listing.