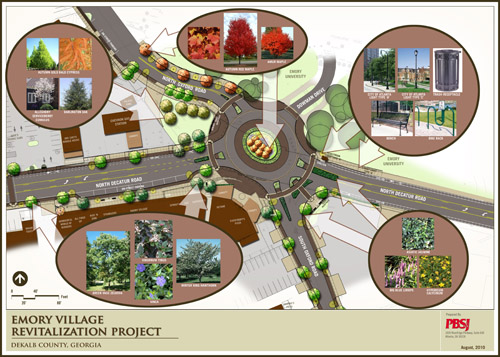 By David Payne
The curtain is lifting on construction of the long-awaited Emory Village roundabout and roadway project on North Decatur Road, outside Emory's main campus entrance.

Starting this week, Aug. 23, the $2.1 million, 10-month DeKalb County project will improve the aesthetics, traffic flow and streetscapes on the heavily traveled North Decatur Road corridor between Clifton Road and the Lullwater Road roundabout.  Parts of Oxford Road will also be affected.

The first phase of construction, part of which will occur at night, includes the renovation of sidewalks, curbs and other streetscape features on the southwest side of North Decatur Road (between Peavine Creek/Panera Bread and Supercuts).  Access to the business parking lots along this side of North Decatur Road will remain open.  There will be road closures within the phase one construction area.

This first phase of construction will run approximately six to eight weeks into October, at which point, the second phase will begin (similar work on the other side of North Decatur Road).

The overall project will replace the multi-dimensional intersection with a roundabout, and add a "road diet" on North Decatur Road through the Village. This will allow for one lane of through traffic in each direction, center turn lanes, bike lanes, improved pedestrian access and sidewalks.

These improvements will moderate traffic flow through the area, and support it as a "village" community gathering spot. 
 
The construction project is scheduled for completion next June. During construction, all lanes on North Decatur Road are planned to remain open, but traffic is expected to be more congested than usual during peak travel hours.
 
"The finished project will be one that Emory, Druid Hills and the Village merchants and patrons will be proud of," says Lois Berthaume, president of Alliance to Improve Emory Village, a nonprofit group dedicated to improvements in the Village. "We encourage patrons of Village merchants to continue to visit shops and restaurants during the construction phase."
 
Drivers should prepare for traffic congestion through Emory Village and be mindful of pedestrians and bicyclists in the area. 
 
Watch for periodic updates in Emory Report and www.emoryvillage.org.