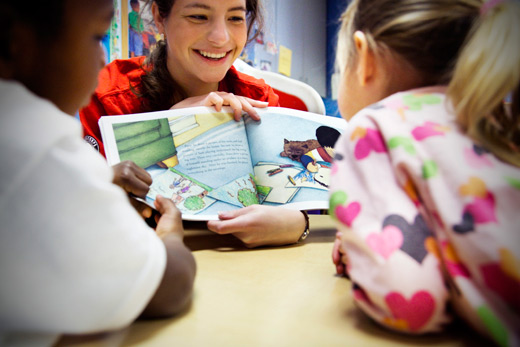 Stephanie Spangler, a Jumpstart and Emory Reads volunteer, is one of 12 Community Building and Social Change Fellows.
By Margie Fishman
College junior Stephanie Spangler came to Emory with the goal of leading a life of social significance. She soon realized that intention and passion are not enough.
"You need the skill set and the tools to enact meaningful social change," she says.
Spangler and 11 other undergraduates are gaining those practical skills through the Emory Community Building and Social Change Fellowship.
A signature program of the Office of University-Community Partnerships (OUCP), the fellowship combines a year of classroom learning with an intensive summer field practicum and networking opportunities with local and national stakeholders engaged in community revitalization efforts.
"This is probably the single most effective program that we run at OUCP," says OUCP Director Michael Rich. "It provides a tremendous capacity-building opportunity for neighborhoods, and is a phenomenal educational experience for our students."
The program, now in its 10th year, has become a national model for integrating research and classroom methods with active participation and engagement in communities. Students are selected through a competitive process based on their academic achievement, career aspirations and depth of service experience. They receive 13 hours of academic credit, along with a summer tuition scholarship, on-campus housing and a stipend.
During the fall and spring semesters, fellows are introduced to collaborative, community-based partnerships that address major public problems. They learn how to develop work plans, assess a community's strengths and weaknesses, conduct research on human subjects and facilitate a successful meeting, among other skills.
During the 12-week summer field experience, they put their knowledge to the test. This year, the fellows are divided among three community-based projects.
One group will assist the DeKalb County Community Development Department in its targeted revitalization efforts by creating asset maps and profiles for two neighborhoods, evaluating public safety, housing viability and employment conditions.
A second group will help the Refugee Family Services' Global Growers Network of Georgia collect and analyze demographic, zoning and survey data to build opportunities and capacity for refugee-led urban farms and a Clarkston Farmers' Market.
The final group will build on OUCP's Graduation Generation-Atlanta program. The collaborative initiative, involving Communities in Schools, Atlanta Public Schools and nonprofit and human services agencies, is focused on bolstering academic achievement and future career success for students at Sammye E. Coan Middle School in Edgewood. The program is supported by a $1 million gift from Emory trustee Rick Rieder '83B. Fellows will develop a resource guide for school-based and outside extracurricular activities for Edgewood area teenagers.
Some of the community projects represent burgeoning partnerships with Emory, while others honor long-term relationships, says Director Kate Grace.
 "We don't expect to necessarily create 12 community builders, but we do hope to infuse the principles of community building into the careers of our graduates," she adds.
The program's 100 alumni have gone on to become doctors, lawyers, social workers and municipal planners.
One former fellow started a nonprofit organization to assist with the rebuilding of New Orleans after Hurricane Katrina, while another won a Fulbright and then developed a comprehensive initiative to help the city of Chula Vista, Calif. address problems of persistent poverty.
Spangler hopes to transfer her skills in grassroots organization and place-based philanthropy to create sustainable preschool programs for low-income children. She is an active volunteer with Jumpstart, a national early education organization, president of the Emory Reads tutoring program and a 2011 recipient of the University's Humanitarian Award.
"The current model of social policy in this country is identifying needs and then dumping resources at those needs," Spangler says. "This experience has shown me that you can make a more substantial change by focusing on local conditions, local people and local voices."