Groundbreaking deal changes Atlanta's health care landscape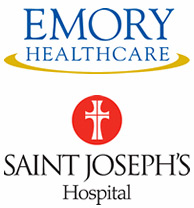 Emory Healthcare and Saint Joseph's Hospital have announced a formal partnership between the two health systems, forming the largest, most clinically comprehensive health system in the state of Georgia, with major hospital campuses in DeKalb County, Johns Creek, Midtown Atlanta and Sandy Springs. 
This groundbreaking partnership between two leading health systems offers the promise of enhancing and better coordinating care for patients and their families throughout North Georgia and the state of Georgia. 
Emory Healthcare and Saint Joseph's leadership say they see this partnership as a strategic and transformative opportunity to marry the clinical and cultural strengths of the two organizations and to create an exciting new opportunity for the delivery of health care to the community. 
"At our cores, both Emory Healthcare and Saint Joseph's Hospital share compatible values and a common purpose: to provide outstanding health care to North Georgia and the state," says John Fox, president and CEO of Emory Healthcare. "Combining the excellence of our physicians, skill and experience of our clinical staffs, and promise of our research capabilities only strengthens what we offer patients."
The Joint Operating Company (JOC) being formed by the two systems is not an acquisition, but rather a partnership business model, which the two organizations discussed, but dismissed last year. During this recent bid process, Emory again pursued its interest in a JOC with a renewed commitment and the negotiations were a success. 
The arrangement would give Emory Healthcare a majority ownership of Saint Joseph's, with a 51/49 percentage split, and allow the joint health care system to expand services. Saint Joseph's will retain involvement in governance of the JOC, including super majority voting rights on certain issues critical to Saint Joseph's mission and values. 
Subject to review by the Catholic Archbishop of Atlanta, it is anticipated that Saint Joseph's Hospital will continue as a Catholic facility sponsored by the Sisters of Mercy. 
"Similar values and mission statements outline our shared commitment to delivering compassionate, innovative care with integrity and excellence. While complementing each other well, each organization brings unique features to the JOC that will enable us to better care for our community, while positioning us to meet the growing challenges of health care and industry reform," says Paul Johnson, CEO of Saint Joseph's Hospital. "We are thrilled to have Emory as a partner as we tackle the changing landscape of health care and create an even better and more innovative clinical care delivery model."
The financial details of the transaction are not being publicly disclosed at this time, but the governing boards of both parties have reviewed the terms of the transaction in detail and have determined that each party has contributed adequate and fair consideration for its interest in the proposed new company. 
Together, Saint Joseph's and Emory will submit formation documents to the Georgia Attorney General and the Federal Trade Commission for review. Regulatory reviews will likely take 4 to 6 months at a minimum. As such, any changes in ownership will likely not take place until mid to late 2011. This transaction is also subject to approval by certain Catholic entities.