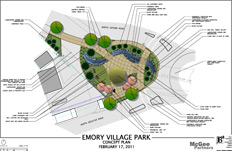 An oasis is taking shape amid the ongoing construction related to the Emory Village roundabout and streetscape improvements.
The roadway for the new roundabout will open space that is currently covered in asphalt for a new "pocket park" adjacent to the Chevron gas station and North Oxford Road. The small park -- approximately 8,300 square feet –- will be one of the newly created public spaces in the revitalized Village.
Construction on the park will not begin until the roundabout and streetscapes are completed this summer.
The park is expected to be a gathering spot for Village visitors and patrons. Benches and seating spaces to accommodate 40 people will be installed.  Eight of the more than 50 new trees that will be planted in the Village will be in the park. 
The current estimate to develop the park is $300,000, of which a remaining $40,000 needs to be raised by June.
The nonprofit Alliance to Improve Emory Village (AIEV) is spearheading the park design and creation. AIEV includes representatives from Emory, the Druid Hills community and the Emory Village business community.