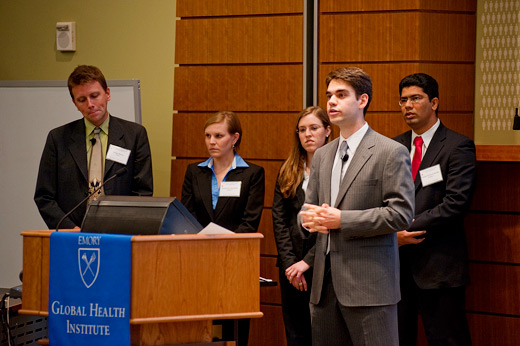 The 2011 Emory Global Health Case Competition winning team.
By Rebecca Baggett
Sofi Kannan, Director of Programming for the East Africa Regional Office of the United Nations High Commissioner for Refugees, needs help.
Responsible for approximately 800,000 refugees, her 2012 budget has been cut by 40 percent, leaving her with the daunting task of prioritizing programs with severely limited resources.
Fortunately for Kannan, 20 student teams participating in the 2011 Emory Global Health Case Competition, held March 19 at the Rollins School of Public Health, gathered to help develop her 2012 programming recommendations.
While Kannan is a fictional character in the case study for Emory's third annual global health case competition, the 20 multidisciplinary teams took her problem very seriously.
Eight Emory teams comprised of students from across the University participated along with teams from 12 guest universities. Their participation expanded the event from last year's regional contest to become the first national case competition of its kind.
Guest teams came from Cornell University, Dartmouth College, Duke University, Princeton University, Rice University, Texas A&M University, University of Alabama at Birmingham, University of California at San Francisco, University of Pennsylvania, University of Southern California, Vanderbilt University and Yeshiva University. General Electric was the competition's signature sponsor.
To ensure fairness, each team's university was anonymous to the judges. The judges were from business, public health, international development, humanitarian crises, and governmental and non-governmental programming. 
Collaborative effort
Emory teams won both first- and second-place honors, while Dartmouth and University of California at San Francisco won honorable mention awards. Rice University won the competition's Innovation Award.
The winning Emory team included students from Goizueta Business School, the Laney Graduate School's Master's of Development Practice Program, the Nell Hodgson Woodruff School of Nursing and the Candler School of Theology.
The team focused its recommendations on capacity building within refugee camps on every level – education, agriculture, economic development, and health and security – with the goal of building independence among refugee populations.
Initially developed and coordinated by the Emory Global Health Institute's Student Advisory Committee in 2009, the competition's purpose is to bring together students from multiple disciplines to address a global health issue in both a collaborative and competitive environment.
The competition has expanded both within and outside the University over the last three years, with many participants explaining that the event's multidisciplinary aspect and realistic case studies provide one of the more real-world experiences that they will have as students.
"It's conventional wisdom that this kind of case situation more closely matches what one has to do in the real world than most anything else we do while at school, and I agree with this," says Andrew K. Stein, a Goizueta Business School MBA student who was a member of the 2011 winning team.
 "I will be starting a career in international development after business school, and so I fully expect to see problems like this on a regular basis. In that way, this competition is about as pre-professional for me as any of my Emory University experiences have been," Stein adds.