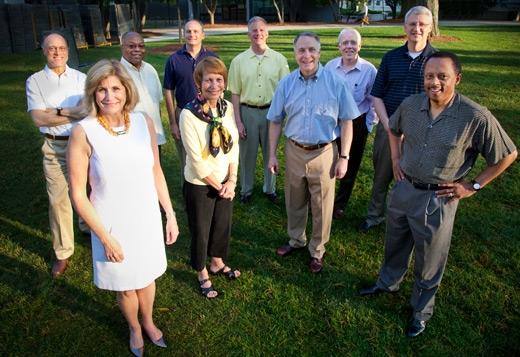 The President's Cabinet sports season-appropriate attire for comfort in the workplace.
By David Payne
On July 1, as part of its previously announced plan (see "Setting temperatures will save energy"), Emory is implementing a significant new means for the University to achieve its energy reduction goals and support its sustainability initiatives by managing the temperature settings in office spaces and public and common areas in many campus buildings.  Emory clinics, research, special use and lab buildings will be exempted.
"The temperatures will be set in a range that we expect building occupants will find comfortable, while allowing Emory to reduce energy use, lower our greenhouse gas emissions and save money," says Ciannat Howett, director of the Office of Sustainability Initiatives. 
Howett's office and Campus Services are leading the energy reduction effort, which is expected to contribute toward Emory's goal of reducing overall energy consumption by 25 percent per square foot by 2015. 
"To date, Emory's energy reduction is over 15 percent, and we expect these changes to support our ongoing progress toward achieving this goal," Howett says.
Below are several frequently asked questions.
Does Emory have a standard indoor temperature?
Yes, during the heating season, temperatures will be set at 68° (+/- 2°); and during the cooling season, temperatures will be set at 76° (+/- 2°). Temperatures may be adjusted outside of this range if the relative humidity in a building rises above 60 percent.
What should I do if I am uncomfortable with the temperature in my area or building?
If you feel that the temperature does not fall within the published University standards, place a call to the zone shop supervisor or call Campus Services Customer Service Center at 404.727.7464. These calls will be made a priority and that building's area temperature settings will be examined by a Campus Services technician.  
How can I become more comfortable with the indoor temperature?
If you are uncomfortable and it is determined that your space is within the University temperature standard, it is recommended that you dress in layers, keep a sweater, jacket or lap blanket in the office and be prepared to add or remove layers of clothing for your personal comfort.
Can I use a space heater to increase the temperature in my area or building?
Emory has prohibited the purchase of space heaters and has recommended that space heaters not be used in any University building. Space heaters create a safety hazard, consume energy and negatively impact the heating and cooling balance in buildings – causing the building's system to work harder by using more energy. 
See more temperature FAQs.