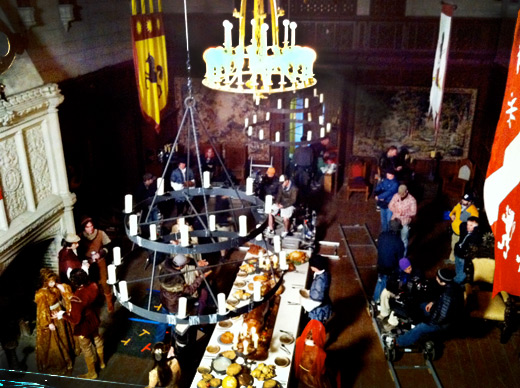 Scenes for the TV series "The Vampire Diaries" were shot at the Candler Mansion. (Photo by David McClurkin)

By Mary Loftus
The afternoon is overcast and rain threatens as Vice President and Deputy to the President Gary Hauk '91PhD takes his place in front of the Candler mansion on the Briarcliff campus to film an Emory History Minute, Emory Report's video series celebrating the University's 175th anniversary.
After touching on Coca Cola Company heir Asa Candler Jr.'s eccentricities, and the menagerie of exotic animals he kept on the estate, Hauk adds that the once-grand mansion, which is on the National Register of Historic Places, can't be torn down but would take millions of dollars to renovate. 
"In the meantime," he intones to the camera, as it pans over the boarded-up windows and peeling paint, "its haunting precincts serve as a frequent location for scary films and vampire television shows."
The traditional look and feel of universities have long drawn film crews to their quadrangles and classrooms, but Emory has even more to offer than the average college campus, says Business Development Manager David McClurkin '74C, with its consistent architecture, wooded green spaces and many historic buildings.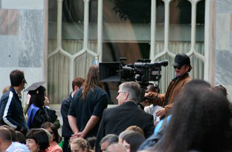 Part of his job is to pitch Emory as a filming location, to help producers and directors find the perfect setting, and to act as a liaison for their projects. 
 "Promotion of Emory as a location was always considered, but in the last few years, driven by the effects of the recession and searching for other sources of revenue, it's been done in earnest," says McClurkin, who works through the filming office in Communications and Marketing.
"It's based as much on serendipity as hard work—it largely depends on if Emory has the right look for their needs."
Emory's effort also aligns with the state's aim to attract more film and television shoots to the area, and with the movie industry being especially robust in Georgia right now.
Commercials, documentaries, feature films, television shows, music videos and print ads have all been shot at Emory, and interest is increasing: the filming office has received about 40 inquiries this year alone, and revenue generated by location fees has increased 20 to 30 percent a year for the past several years.
Indeed, the Candler mansion, with its faded drapes, carved fireplaces, solarium, spacious ballroom and ornate chandeliers, has become one of the most popular Emory locations for shooting.
Recent projects shot at the estate include still photos for the Atlanta Ballet and the Christian rock group Skillet, and scenes for the CW Network's supernatural TV series "The Vampire Diaries," whose crew "restored" the mansion's ballroom to 1492, complete with a blazing fire bar in the fireplace.
"We have a few absolutely unique locations, like this place," says McClurkin, walking through the dimly lit rooms of the main house. "There's nothing else in the area quite this big and grand but in a state of disrepair."
Case in point: in an overgrown greenhouse in the back of the mansion, a Staghorn fern has melded to an irrigation pipe, lending a post-apocalyptic feel to the space. "If someone were to create this on a set, it might cost tens of thousands of dollars," he says.
The process usually begins with a location manager visiting campus to take photos, or checking out campus locations on the filming office website. Then a technical scout is sent out, sometimes with the director, producer or art director, and if they like what they see, the proposal is made, proof of liability insurance is provided, and the location fee is agreed upon based on how large and logistically complex the shoot will be.  
"Promotion of Emory as a location was always considered, but in the last few years, driven by the effects of the recession and searching for other sources of revenue, it's been done in earnest," says David McClurkin.
Each project has to be a good fit for the University and must be approved by the film project review committee, which considers if the shooting would cause a significant inconvenience to campus activities, if the project aligns with Emory's mission (or is at least neutral), and if it will benefit the University financially or culturally.
"Filming makes for long days but it's a lot of fun," McClurkin says. "You realize why movies and TV shows cost what they do. So many people and so much time, effort and equipment goes into filming just a few scenes."
He finds the myth of the self-absorbed Hollywood types to be overblown, however. "They've all been very friendly, very cooperative and professional. They understand they are here as our guests. I've really enjoyed working with them."
In fact, actor/director Sean Penn was willing to be as unobtrusive as possible while directing a scene for the movie "Into the Wild," about Chris McCandless '90C, during Emory's 2006 Commencement ceremonies. Penn wore a cap and glasses, brought only a small crew, and filmed from an out-of-the-way vantage point. But fans still managed to catch sight of the actor incognito.
"At some point it became clear that it was an enhancement to the whole experience, not a disruption," says McClurkin.
Since Emory's main mission is to educate, he also asks directors and producers who film here to agree to some type of "meaningful engagement with students," whether that means allowing students to shadow the crew during production or to serve as extras, or making themselves or their actors available for class lectures or Q&As.
"Because there is a strong interest by Emory students in the creation and business of film, it's important to provide opportunities for student observation and real-life participation when that's possible," he says. "A lot of our alumni are in Hollywood working in the business right now."
McClurkin has helped students scout locations for their own film projects, such as Stephen Beehler '10BBA, Emory's social media manager. "For a short film we shot in 2010 called 'Do Us Part,' David gave us access to the old Ronald McDonald House on Houston Mill, and we used the house for the majority of our principal photography. The character of the house was a perfect match for the aesthetic that we were going for in the film."
Major projects that have been shot on Emory's Atlanta and Oxford campuses include the feature film "Into the Wild," Jonathan Demme's documentary film "Jimmy Carter Man from Plains," a Ray Charles music video, and "The Vampire Diaries" (which has filmed at Emory on three occasions, including at Oxford College's Hoke O'Kelley Memorial Library). Emory and Oxford's quads, athletic fields and woodlands also recently served as a backdrop for a catalogue shoot for Vera Bradley women's accessories.