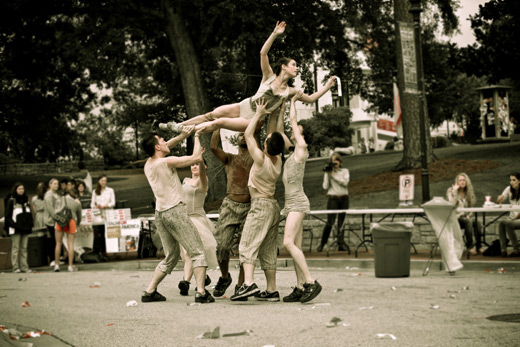 A performance by gloATL highlights the campus-wide 9/11 remembrance. Read more here. (Photo courtesy of Carlton Mackey)
By Eric Rangus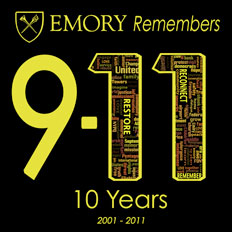 The Emory community will commemorate the 10-year anniversary of the terrorist attacks of Sept. 11, 2001 with a week's worth of academic, worship, service, artistic and musical events to explore that still-painful day, its aftermath and the far-reaching changes wrought upon the country and world.
The schedule for "Emory Remembers 9/11" is available online, and planners worked to ensure the entire community would have a voice.
"We wanted to bring Emory together as a university to commemorate the anniversary as one community," says Paul Root Wolpe, director of the Center for Ethics, which is one of several entities, including Religious Life, Emory Law and others, that organized the program.
"We were looking for the many ways to appeal to the hearts, minds and souls of the Emory community," Wolpe says.
Campus-wide planning for the week began in June, although in some cases the upcoming 10th anniversary had been front-of-mind for much longer.
"Because September 11 falls on a Sunday, I was thinking about it for quite some time," says Susan Henry-Crowe '76T, dean of the Chapel and Religious Life, who leads services each Sunday in Cannon Chapel.
In the course of planning the week's activities, Henry-Crowe says each school was encouraged to interpret the issues within the context of its own work.
One panel, "Memory and Memorializaton: What Should September 11 Mean?" at 4 p.m. on Sept. 7, includes faculty from multiple disciplines. Also taking part in that panel will be Martin Duke (whose brother and fellow panelist is Candler Professor of Psychology Marshall Duke), who worked in the World Trade Center and survived the attack.
More guest speakers will participate in a Sept. 11 worship service, including Ali Lutz '99C-'04T, a lay minister who served the Trinity Wall Street Episcopal congregation in Lower Manhattan near the World Trade Center site, and alumnus Edward Ball '03T.
"I have been custodian of the prayers written by Emory students, faculty and staff on September 11, 2001. During this year's service those prayers will be burned as a ritual offering," Henry-Crowe says. "For the past decade, the Emory community has prayed for the suffering and brokenness of the world and its peoples. This will be a service of remembrance to recall the strength and solidarity found here."
Also on Sept. 11, Volunteer Emory is sponsoring two service projects open to the entire community. Registration is now open for Emory Remembers 9/11: Day of Service. Volunteers can sort medical supplies for developing nations at MedShare or help beautify Kittredge Park off North Druid Hills Road. The projects are part of a national 9/11 day of service that Mark Torrez, assistant director for community engagement for the Office of Student Leadership & Service, hopes to support each year.
"It is natural to focus on the destruction, pain and anger," says Torrez, director of Volunteer Emory. "But we'd like to create an opportunity to explore our community and focus on the progress we've made, and are continuing to make, as it relates to strength and unity."
The day's programming concludes on the Oxford Quadrangle at 7 p.m. with "9/11 Ten Years Later: Gathering Community, Sharing Light, Practicing Respect."
Music and arts programming will play a significant role in the remembrance. Events will touch on all the senses, from the opening gathering in Asbury Circle in Wonderful Wednesday, Sept. 7, to a musical tribute in the Schwartz Center Sept. 11, featuring organist Timothy Albrecht, to an artist's talk on Sept. 12 by Sal Brownfield on his painting, "Requiem for the Innocent – Memorial to 9/11," which hangs in the Center for Ethics.
Since the schedule for "Emory Remembers 9/11" was completed over the summer, student input was minimal. Henry-Crowe says she expects students and other organizations to add programming as they see fit.
Edward Queen, director of ethics and servant leadership in the Center of Ethics and a participant in the "Memory and Memorialization" panel, perhaps best sums up the feelings of many as the anniversary approaches.
"September 11 was a horror that cut across all aspects of society—ethically, socially, environmentally, religiously," he says. "It's important that we all remember those victimized by this tragedy and honor them."