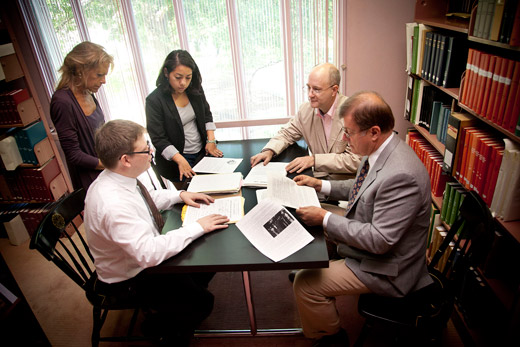 The Aquinas Center works with many partners. Pictured clockwise from right: Aquinas Center Director Phillip Thompson;  Pat Graham and Bob Presutti of Pitts Theology Library; Judy Raggi Moore, director of Catholic Studies; and Rosy Gomez, a student in Catholic Studies.

By Margie Fishman
As the Aquinas Center of Theology nears its 25th anniversary, the Emory affiliate has adopted a new vision statement, "Transforming lives through the search for God's wisdom."
"The theme suggests a certain dynamism," explains Executive Director Phillip Thompson. "We are not just providing knowledge for knowledge's sake. We hope that it will be a transformational process."
Building on its Dominican heritage of joining reason and faith, the Aquinas Center is the oldest Catholic intellectual center at a non-Catholic college or university. It traces its origins to 1984, when Dominican priests of the Southern Province established a residential center for novices near Emory.
The Aquinas Center adopted its current name in 1987 and became an independent nonprofit organization on the University campus. Roberto Goizueta, son of former Coca-Cola chairman and CEO Roberto C. Goizueta, served as the Aquinas Center's executive vice president from 1988 to 1991.
Having faith
At the time of the Aquinas Center's founding, there were fewer than 150,000 Catholics in the Archdiocese of North Georgia, says Thompson. Today, that number has grown to 950,000.
At the same time, he notes, "the fastest-growing religion in America is the 'none' category." A 2010 survey of college freshmen conducted by the Cooperative Institutional Research Program revealed that about 13 percent of Emory freshmen identified as Catholic, while 30 percent were not affiliated with any religion.
"We're a devout, diverse and tolerant society," says Thompson. "At some point, the tolerance and exploration of diverse faiths may make people less focused on the specific truth of their own tradition and more interested in a general spiritual quest. All faiths must pay attention to this trend."
The Center's key objectives involve creating dialogue among diverse perspectives for Christian living; encouraging interfaith conversations; embracing the depth and breadth of the Catholic tradition; and providing Catholic intellectual leadership on contemporary, social and moral issues. Notes Thompson: The Center does not shy away from hot-button topics, from illegal immigration to the death penalty.
As an affiliate organization, the Center is not part of a department, school or administrative unit at Emory. Its decisions are governed by an independent board comprised of Emory faculty, Catholic business and professional leaders, and members of the Dominican order.
Still, the Center nurtures a close relationship with both the Archdiocese and the University, collaborating with the Candler School of Theology, Department of Religion, Center for Ethics, and the Catholic Center, among other campus units.
In turn, Emory has supported the teaching of Catholic civilization, art, literature, ethics and theology as part of a multi-religious understanding on campus, says Cohen Professor of Judaic Studies David Blumenthal, a longtime Aquinas Center board member.  
"College is the time for serious questioning of your tradition," Blumenthal says. "It is only after serious questioning that you have faith."
Community collaboration
According to former Aquinas Center director Philip Reynolds, "The Center has succeeded under Phillip Thompson by combining enthusiasm with realism and, above all, by finding an operating model that is sustainable."
Reynolds holds the Aquinas Professor of Historical Theology in the Candler School of Theology, a professorship the Aquinas Center endows.
On Sept. 20, the Aquinas Center will present its Major Catholic Speaker Series lecture titled "Religious Freedom — A Second Class Right?" Harvard Law School Professor Mary Ann Glendon will discuss the challenges of upholding a universal right to religious freedom in a diverse world. The free Harold J. Berman lecture, co-sponsored by Emory's Center for the Study of Law and Religion, will be held in Tull Auditorium at 7:30 p.m.
The next installment of the Major Catholic Speaker Series comes on March 28, when Father Timothy Radcliffe, former Master General of the Dominican Order, will explore the future of the Catholic Church.
Other Center programs involve providing speakers to adult education programs at neighboring parishes (administrative districts of the Archdiocese with their own churches) on issues as far-ranging as the Bible, Gothic cathedrals, Catholic leadership and social justice. The Center also regularly sponsors a visiting scholar with a Dominican affiliation, co-sponsors the Atlanta Catholic Business Conference and hosts forums for area college and university faculty to deepen their Catholic scholarship.
After helping Emory's Pitts Theology Library acquire the Thomas Keating archive last year, the Center is working to add a contemplative dimension to a variety of classes. This year, "Centering Prayer and the Wisdom of Thomas Keating" will be offered through Emory Continuing Education.
The Aquinas Center is also pursuing a Hispanic initiative to facilitate discussions connecting Hispanics and religion, after welcoming its first Hispanic board member this year.
In 2007, the Center helped to establish the Catholic Studies minor at Emory, the first at a non-Catholic college or university. Last year, more than 300 students enrolled in courses focused on the intellectual and cultural traditions of the Roman Catholic Church, such as the foundational class, "Modern Catholicism," which covers five centuries in one semester.
Professor of Pedagogy Judy Raggi Moore is the new director of the minor, along with the Italian Studies summer abroad program. This summer, the Center offered its first $1,500 travel scholarship for one student concentrating in Catholic Studies to participate in the program. 
After taking the "Modern Catholicism" class, Emory College sophomore Clare Mullins says she is seriously considering a concentration in Catholic Studies. Over the years, Mullins and her family have been ardent supporters of the Aquinas Center's programming. Mullins' father Craig serves on the board.
"The Aquinas Center is vitally important," says Mullins. "It provides resources for intellectual growth that are important to everyone, not just Catholics."