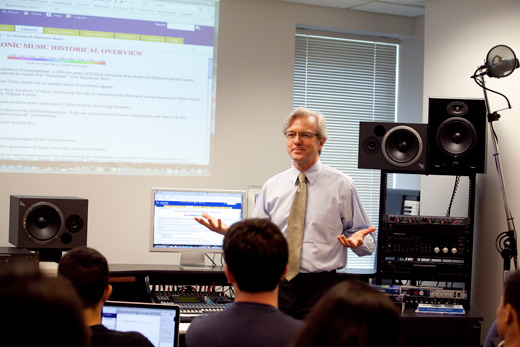 Professor of Music Steve Everett has been appointed as director of the Center for Faculty Development and Excellence.
By Kim Urquhart
Collaboration. Connection. Innovation. Support. This is Steve Everett's vision as the newly appointed director of the Center for Faculty Development and Excellence (CFDE).
Created to provide support for faculty in key areas of academic life, the Office of the Provost launched the CFDE in 2009 with the aim of building intellectual community and helping faculty grow throughout their career.
"The CFDE, supported by the Provost, has become an invaluable university resource for faculty as they develop in their many roles as teacher, researcher, author, clinician and mentor," says Everett. "As the new director, my goal is to continue to discover innovative and creative ways to support and encourage faculty in all dimensions of their professional lives, from graduate students to emeriti."
A professor of music and director of the Music-Audio Research Center at Emory, Everett has served as chair of the Department of Music, interim director of the Fox Center for Humanistic Inquiry, and most recently as the 2010-11 chair of the Faculty Council and president of the University Senate.
"I discovered early on that I loved institution-building," says Everett, shaped by university-wide projects like helping to establish the Schwartz Center for Performing Arts early on in his 20-year career at Emory, to how leadership roles like chairing a department and leading governance groups has given him a wider view on issues and a university perspective across the schools.
Expanding the center's visibility
Everett's three-year appointment as CFDE director began in June. According to Senior Vice Provost of Academic Affairs Claire Sterk, "Steve has developed a reputation as an intellectual and collaborative faculty leader who triggers creativity and innovation among others within and outside the academy.  Through his various leadership roles, he has developed an excellent understanding of the university at large."
She continues: "He brings an exciting vision to faculty development and excellence that will initiate activities for the future and the sustainability of the CFDE."
Everett's first task as new director will be to evaluate the center's current programs. He notes the "robust set of activities and tremendous tools" already in place:  the CFDE sponsors seminars, workshops and presentations each year on a diverse set of topics focused on improving faculty teaching, writing, research and institution building.
He plans to look at faculty development in a larger sense, and how the center can be more visible and with a greater sense of productivity within the classrooms, within research and within the community.
 "What I've tried to do is come in and work through the programs to see where we were getting a lot of traction as far as what kind of units were taking advantage of our services," he says.
The evaluation is from the perspective of the entire campus enterprise – "it's massive," he notes, with Oxford College and some Emory Healthcare employees, for example, facing geographic barriers to CFDE's on-campus offerings.
And that is a challenge that Everett wants to leverage technology to surmount. "One of the first things I wanted to do is to see, is there a way we can invest in technologies that would help us start to offer our services to people who can't be in the same room together? We'll be using more webinars and multichannel videoconferencing so we can start to offer many of our events to people who couldn't be here in the past."
Technology at the heart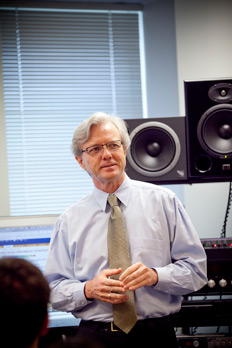 "Technology is my background," explains Everett, a scholar, teacher and composer of computer music.
"Technology is at the heart of the future of teaching and research," he says. "Just like a composer, to be a great teacher or a great researcher, you must continuously upgrade your skills and continue to explore tools that offer opportunities for improvement and advancement."
The Emory Center for Interactive Teaching (ECIT) is an important partner in this cause, a partnership Everett plans to deepen.
Increasing collaboration
The CFDE will be increasing collaborations and partnerships with other centers and programs in the University and the community.
"There are lots of people invested in faculty development," Everett notes. "We want to serve as a bridge to pull those people together as much as possible, and build more collaborations into the center."
Programming for the 2011-12 academic year will include:
• Initiatives in Digital Teaching, Learning and Research:  A workshop series co-hosted with ECIT on topics ranging from digital publishing to mobile computing.
• Distinguished Teaching Scholars: A seminar designed to honor faculty who are leading teachers and create a university-wide conversation about pedagogy.
• University Course: A course that brings together undergraduate and graduate students with faculty from across the university to discuss an issue of common concern.
• Piedmont II: A follow-up event for alumni of Emory's Piedmont Project to shape future programs in sustainability at Emory.
• Gustafson Seminar: An interdisciplinary seminar on engaging topics of interest to a wide variety of researchers.
• Ethics of Teaching: A workshop in collaboration with the Laney Graduate School and Center for Ethics to develop strategies for more ethical teaching.
The CFDE will continue to offer faculty support through Classroom Mini Grants and Funds for Innovative Teaching (FIT) grants. The Author Development Program and the Academic Exchange will continue to be affiliated programs.
Everett hopes the community will use the CFDE as a matchmaker to create connections. Services will include teaching and research consultations, focus groups and online surveys.
He also envisions the CFDE as serving as a "think tank," where the campus community can turn to for help in examining larger institutional questions.  "We can be a think tank for how do we look at issues of faculty development, student development, institutional issues -- issues that really nobody else on campus is set up to look at."
Joining Everett in his work to support faculty development and excellence at Emory is Donna Troka '07G, who has been with the CFDE since its inception and recently advanced to a new role as associate director.
But Everett and his team will not shape the CFDE's direction alone. "I hope that [faculty] see us as a resource, but also will give us guidance as to what we should be [featuring] to help them, because we are set up by the provost to lead whatever the community needs."
Coming soon: Stay tuned for a redesigned website and the fall schedule of CFDE events.