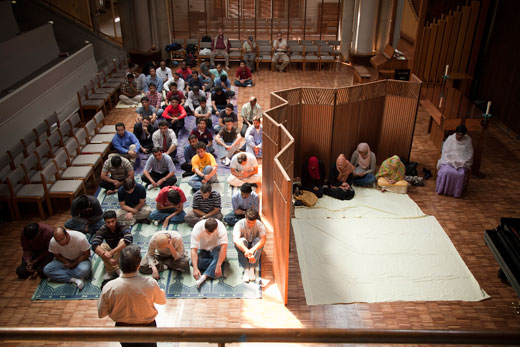 Friday Jumma prayers at the Cannon Chapel.
By Woodrow Leake
Participation in a White House challenge sparked a plan by Emory's Office of Religious Life to collaborate to expand service opportunities within the inter-religious communities connected to Emory.
In early August, President Barack Obama's Office of Faith-based and Neighborhood Partnerships invited Dean of the Chapel and Religious Life Susan Henry-Crowe and Assistant Chaplain Saul Burleson to participate in convening the President's Interfaith and Community Service Campus Challenge.
Emory was one of only about 120 colleges and universities submitting proposals and chosen to participate in the White House initiative inviting institutions of higher education to commit to a year of interfaith and community service programming on campus.
From the inaugural meeting, Henry-Crowe utilized community service as a pathfinder for her colleagues, campus ministers and chaplains, and the student Inter-Religious Council (IRC) to expand their service orientation.
 "Religious Life at Emory continues to flourish," says Henry-Crowe. "Discussions with our colleagues at the White House confirmed that including service in our current and long-term plans reflects a national trend" in college and university religious life.
Activities thus far include participation in an interfaith day of service during "Emory Remembers 9/11," working in Kittredge Park and at MedShare, planning to help build a Habitat for Humanity home and programs that help stop domestic violence.
The wide-ranging interests of the Inter-Religious Council —dedicated to building bridges through service, education and dialogue— help students grow by "encouraging a sense of civic and social responsibility through engagement and reflection," says Henry-Crowe. IRC chooses and implements projects that are open to all Emory students and draw participation from many religious groups.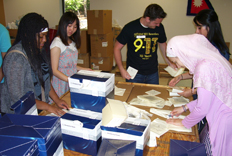 "Individual religious groups also sponsor activities for their own members," notes Burleson.
Henry-Crowe is proud of Emory's enviable position among colleges and universities across the country. 
"We have great institutional support," she says. During her 20-year tenure, "we have grown to include 31 recognized religious groups—most of which are supported financially by their parent religions."
The Office of Religious Life has the facilities and high student participation to support its general goal of "cultivating spiritual and religious identity of persons and religious communities at Emory," says Henry-Crowe.
A centerpiece is Cannon Chapel, which serves as a catalyst in helping spiritual life thrive for the Emory and Candler communities.  With numerous configurations available, Cannon Chapel offers a main meditation/worship/prayer space, an indoor-outdoor area for socializing and relaxing (often with coffee and food), small rooms for meetings and study, and an embracing aura. This concrete structure provides what many universities lack—a multi-cultural/faith place where all are comfortable in spiritual pursuits, artistic expression and exploration. 
Henry-Crowe appreciates Cannon Chapel's significant role in "fostering a strong sense of inter-religious cooperation and collaboration among students." 
Cannon Chapel reaches its 30th anniversary during 2011-2012.  The Office of Religious Life will announce plans to recognize this milestone during the year.
"Journeys," which Dean Henry-Crowe established at Emory, is the most visible program of the Office of Religious Life.  "Journeys" trips planned for 2012 will take students, staff and faculty to the Mississippi Delta and various sacred sites, and a special alumni journey to Turkey. 
Henry-Crowe observes, "In fostering 'Journeys,' we provide immersion experiences to examine the root causes of conflict and violence in various communities around the world."
In convening his White House Conference on Interfaith and Community Service, President Obama observed, "The particular faith that motivates each of us can promote a greater good for all of us.  Instead of driving us apart, our varied beliefs can bring us together to feed the hungry and comfort the afflicted; to make peace where there is strife and rebuild what has broken; to lift up those who have fallen on hard times."
President Obama might well have been describing religious life at Emory, which, Henry-Crowe notes, "continues to bustle with activity."