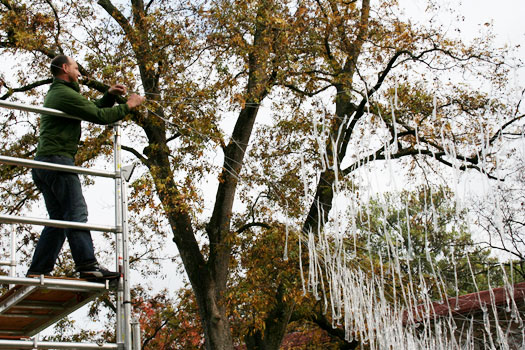 Work is under way on "Piedmont Divide."
By Carol Clark
Environmental artist John Grade arrived on campus to begin orchestrating "Piedmont Divide." A large-scale art installation in two parts, "Piedmont Divide" will reflect the University's research into West Nile virus and global water sustainability.
"This is a creative project where everyone can play," said Julia Kjelgaard, chair of the Visual Arts Department, during a welcome reception for Grade, an Emory artist in residence.
Grade is soliciting volunteers to help in the building of the two large outdoor sculptures: One to be located amid the trees on the Quadrangle, and the other above the lake at the Lullwater park. The work will continue through Saturday, Nov. 19.
"The plans are more or less free-form, like a jazz performance," Grade said, adding that everyone who works on the project may influence the end result. "I hope that the work will mature and develop beyond what my vision is."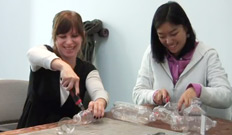 A studio at the Emory Visual Arts Gallery is filling up with giant bags of clear plastic water bottles, the raw material for the sculptures. If you have some clear plastic bottles to recycle, drop them off at the gallery, which is still short of the 20,000 needed.
Rather than distinct masses, the two sculptures will be "cloud-like forms," Grade said. "The clouds will start taking shape from center, where they will be most dense, and then spiral outward. The pieces will expand in an organic way. It's a bit more risky to work this way, but I'm confident that the results will be interesting."
The installation on the Quad will be suspended in the tree canopy in a spider-web like series of ropes. A pulley system will allow the sculpture to be lowered and raised.
The Lullwater piece will be suspended over the lake. A scaffold just below the water line will support the structure. Grade envisions dancers performing beneath the sculpture. "They will look like they were walking on water," he says.
In addition to lending a hand in building the sculptures, the public is invited to a Creativity Conversation with Grade and Kjelgaard, on Wednesday, Nov. 16 at 5 p.m. in the Carlos Museum Reception Hall.
On Thursday, Nov. 17 at 6:30 p.m., Grade will discuss the intersection of art, science and sustainability with Uriel Kitron, chair of environmental studies, and Christine Moe, director of the Center for Safe Water at Emory. Pizza will be served during the free public event, at the Visual Arts Gallery.