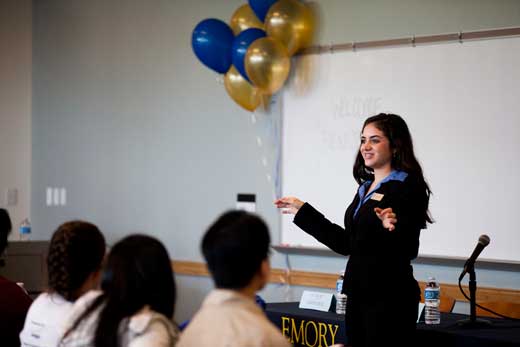 Organizers spent months designing multiple tracks by grade level for the middle and high school students, along with tailoring programs for parents, teachers, administrators and current college students pursuing graduate school.
By Margie Fishman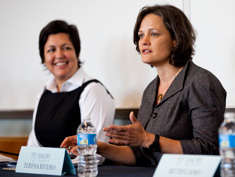 As a prospective student, Ismael Loera had the grades to get accepted to Emory, but financing a private school education and moving hundreds of miles from his tight-knit Mexican family seemed out of reach.
Today, Loera is an Emory College junior and treasurer of the Latino Student Organization. The first member of his family to attend college, he considers Emory to be his "second home." Recently, Loera was among hundreds of volunteers who handled logistics — from sign placement to parking assistance — for the Latin American Association's 12th Annual Latino Youth Leadership Conference, the first to be held at Emory.
The Nov. 5 conference, co-sponsored by the Latin American Association and Emory's Office of Community and Diversity, brought more than 1,300 students, parents, teachers and principals to campus to explore leadership development, the college application process, financial aid, scholarships and career opportunities. Supporting the effort were the United States Hispanic Leadership Institute and CoolSpeak, a youth engagement company. Organizers maintained an enormous waiting list -- registration for the free event closed within six days.
"This is really a major step for Emory, and it builds on a decade of engagement with the Latino community," says Vialla Hartfield-Mendez, director of engaged learning at Emory's Office of University-Community Partnerships and Professor of Pedagogy in Spanish and Portuguese, who helped plan the event.
Organizers spent months designing multiple tracks by grade level for the middle and high school students, along with tailoring programs for parents, teachers, administrators and current college students pursuing graduate school.
This year, the conference coincided with Éxito Emory, organized by the Office of Undergraduate Admission. In its fifth year, the program equips Atlanta-area Latino and Hispanic high school students with the necessary knowledge and tools to navigate the college search and admissions process. More than 30 area high school students attended Éxito Emory workshops, including information sessions about Emory and the Oxford campus, application essay tips from admissions counselors and mentoring from current Emory students.
Emory Trustee Teresa Rivero '85Ox-'87BBA-'93MPH, senior program officer for the Bill & Melinda Gates Foundation, welcomed the participants and met with Éxito Emory students.  Senior Vice Provost for Community and Diversity Ozzie Harris lent high-level support, and corporate volunteers pitched in, including representatives from Verizon, Coca-Cola, UPS and SunTrust.
Instilling hope
Hosting the conference underscores Emory's commitment to recruiting a diverse pool of students and keeping them engaged throughout their college experience, says Hartfield-Mendez.
From 2009 to 2010, Hispanic college enrollment nationwide increased by 24 percent, according to data from the Pew Hispanic Center. Hispanic and Latino students represent about 6 percent of Emory's total population, and the numbers are gradually increasing.
During a recent presentation to the University's Latino Task Force, Director of Educational Research Melissa Bolyard presented statistics on Hispanic and Latino retention patterns at Emory based on freshmen cohorts. Entering their sophomore year, retention  among Hispanic and Latino students in the 2007 to 2009 cohorts was slightly higher than among Emory College freshmen overall. A 2010 Cooperative Institutional Research Program survey of Emory freshmen found that nearly three-quarters of Hispanic and Latino students were concerned about college financing, compared to slightly more than half of all Emory freshmen respondents.
"Our most difficult task is in persuading Hispanic and Latino students who are high-achieving and well-qualified, that Emory is indeed an option," says admissions counselor William Segura.
Segura, along with admissions counselor Stephanie Uribe, joined Emory in August to focus on multicultural recruitment. They consider applications holistically, evaluating essays, GPAs and test scores, among other factors. Segura and Uribe both have extensive experience working in the nonprofit arena, and they hope to partner with area organizations to raise Emory's profile. 
They face a challenging environment. Aware of Georgia's illegal immigrant crackdown, House Bill 87, undocumented students are reluctant to ask questions about higher education, Segura says. While these students don't qualify for government financial aid, they may be eligible for scholarships as international students, he adds.
"In some ways, much of the Southeast is playing catch up in recruiting Hispanic and Latino students and faculty," says Karen Stolley, associate professor of Spanish and Portuguese, who helped organize the conference.
Many Hispanic and Latino students face hurdles, such as persistent poverty, language barriers and families with little to no history of college enrollment, notes Stolley.
Building a support network 
Once enrolled at Emory, Hispanic and Latino students gain access to an array of resources.
The Office of Multicultural Programs & Services (OMPS) develops programs to foster an inclusive, equitable and culturally competent environment. Emory faculty and student volunteers tutor young Hispanic and Latino students. Recently, OMPS and the Rollins School of Public Health partnered with the nonprofit Hispanic Health Coalition to update a Latino health report that analyzes the community's health and risk profile across multiple variables. The report is scheduled to be presented on campus during a summit in June.
During the Latino conference, Stolley took a group of students on a tour of Woodruff Library, delighting them with the moveable stacks. Standing on the top-floor balcony of the Manuscript, Archives and Rare Book Library, they enjoyed a bird's-eye view of campus.
As Stolley pointed out campus landmarks, including the School of Medicine, one eighth-grader piped up that he wanted to become a surgeon.
"These students were able to see themselves here," Stolley says. "It was incredibly inspiring.