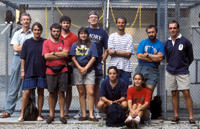 DE WAAL LAB 1993
(photo 18)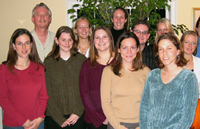 DE WAAL LAB 2004
(photo 19)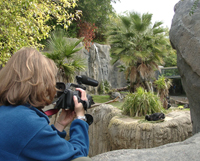 AMY POLLICK OBSERVING BONOBOS

Teaching at the Psychology Department of Emory University, I set up research at Yerkes, the oldest and largest primate research institute in the nation. I became the academic advisor of graduate students recruited through the Psychology Department's Neuroscience & Animal Behavior Program. The students added energy and new ideas to my work. By now, some have earned their Ph. D.'s and moved on to independent careers.
Photo 18 of my team in 1993 and photo 19 in 2004 show a shift from mostly male to mostly female members, but otherwise the balance of postdocs, technicians, and students has changed little. We hold regular lab meetings, which include presentations by students; so-called simian soirees, at which we discuss our projects, and parties.
Yerkes Director Fred King set me up with a nice new facility for behavioral experiments. The Capuchin Lab is a very active place for graduate and undergraduate students with a socially housed colony of over thirty brown capuchin monkeys. The lab has produced dozens of scientific papers on cooperation, reciprocity, social learning, reconciliation, and so on.
My main objective at Emory was a return to ape work, though. Apart from the observations I had conducted all my life - continued at the Yerkes Field Station - here, too, my work was becoming increasingly experimental. The chimps at the Field Station live in large groups, but voluntarily enter a testing building where we present them with puzzle boxes, tools, mirrors, or tasks on a computer screen. At the moment, we're running experiments on "cultural" transmission". One student has even picked up bonobo work again, visiting the San Diego Zoo two decades after I did.
My main book during this period was Good Natured (1996), on the origins of morality. This issue was further explored by a student, Jessica Flack, and myself in an article entitled "Any animal whatever .." (720KB pdf). Stephanie Preston and I later produced an almost book-length review of the literature on (human and animal) empathy, which was debated in The Behavioral & Brain Sciences.
My work at Living Links at Yerkes is continuing, as always focused on social behavior and social cognition, mainly on chimpanzees and capuchin monkeys.