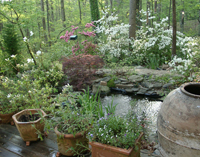 THE GARDEN IN SPRING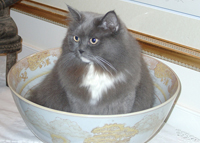 SOFIE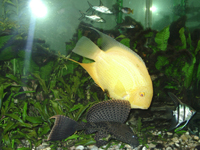 FISH TANK

Frans lives in Stone Mountain (Atlanta, Georgia) with his wife Catherine and four cats. They have a spacious home in a forest full of raccoons, opossums, owls, and a great variety of songbirds. Snakes and turtles are occasionally spotted, and the pileated woodpecker is a daily visitor.
They enjoy the wildlife, feed the birds, and have two ponds with frogs and goldfish. On summer nights, the forest pulsates with the almost tropical sound of hundreds of tree frogs.
Frans always works on multiple projects at once, and takes little time to relax. He rarely watches television before 10 PM. Once a year, he takes a week's vacation on the Mexican coast. Otherwise he gets his relaxation during trips, which often include some sightseeing. Frans gives around 25 invited lectures and keynotes each year all over the world. Exceptionally, he dresses up for the occasion - his favorite clothing is more casual. Now that Catherine is retiring as a professor at the Georgia Institute of Technology, they will more often travel together.
Frans' main hobby is obviously his work. But other than that, he likes to cook as does Catherine. His cooking is rather spicy, hers rather French. Frans bakes bread several times per week. Playing the piano is something he has done since he was eight years old, and he still plays classical music as well as bluesy improvisations. With Catherine, he often takes a walk in the neighborhood. Photography is another hobby, reflected in his primate portraits in My Family Album, but also in private and landscape photographs.
The cats get lots of attention. Freddie is almost eighteen, and getting rather old. They also have a ragdoll-like female named Sofie and two adopted stray cats, a male named Loeke and female named Rose.
Most importantly, ever since his childhood Frans loves fish. He has one 500-liter (120 gallon) freshwater tank built into the wall of his study . He maintains several other tanks, including some at work.
Frans and Catherine still have lots of friends and family in the Netherlands and France, whom they visit once or twice per year. They're usually shuttling from one visit to the next, so don't consider these trips vacations, but they're a welcome break from work nonetheless.