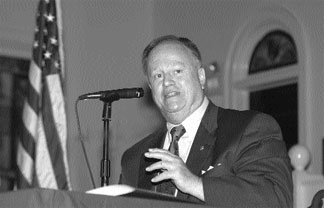 Cleland comes (almost) home to Oxford: Invoking Teddy Roosevelt, U.S. Sen. Max Cleland (D-Ga.) said the best defense policy for America continues to be "walk softly and carry a big stick" in his address at Oxford College for the Samuel W. Mills Peace Lecture, March 2 in Allen Memorial Church.

"Speaking of small communities, I grew up in one not far from here," said Cleland, who hails from nearby Lithonia. Cleland said he thought Emory "was too big for me" coming out of high school, so he decided to attend Stetson University in Florida, though after his undergraduate work he did come to Emory to earn a master's in American history.

Cleland, a Vietnam veteran and member of the Senate Armed Services Committee, used the Mills Lecture as a forum to express his views on range of defense issues, including the dangers of fundamentalist groups around the world and President George W. Bush's expressed desire to design—and deploy—a missile defense system. He also talked about how the people of countries are often drawn involuntarily into war—such as happened in Vietnam, he said—invariably to unimaginable costs.

"After being wounded in Vietnam, I spent a year-and-a-half in military and [Veterans Administration] hospitals, and there I saw the cost of war as few people get a chance to see it," said Cleland, who lost both his legs and his right arm in a grenade explosion. "I'll tell you, it will make you a fervent disciple for peace." Photo by Ann Borden.