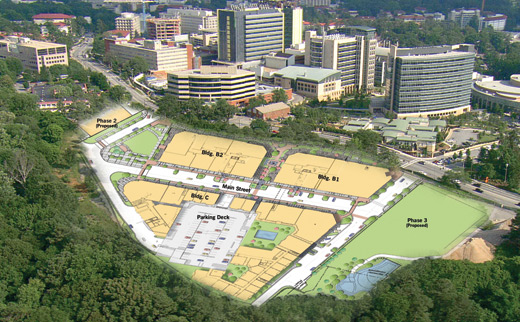 Project footprint includes future phases two and three. (Courtesy of Cousins Properties)

Housing, dining, retail options under way on Clifton Road
By David Payne
Construction officially kicked off this month on Emory Point, a mixed-use project across from the U.S. Centers for Disease Control on Clifton Road that includes street-level shops, restaurants and residential units. The project is being developed by Cousins Properties.
The first phase of Emory Point will feature 80,000 square feet of retail space and 443 luxury apartments.  An announcement regarding the retail tenants is expected this fall, and pre-leasing for the apartments, managed by Gables Residential, will begin next spring.  This phase of the development is expected to open in the fall of 2012.
Future phases are anticipated, which may include a mix of apartments and condominiums and additional retail.
For Emory University and Emory Healthcare, the new businesses will provide welcome dining and shopping options on the north section of Emory's campus.  For commuters who currently drive to the Clifton Road corridor, the residential units will provide upscale apartments close to Emory and will facilitate walking, bicycling or taking the Cliff shuttle to work.  
The retail and residential options are also expected to be popular with workers at the CDC, Children's Healthcare of Atlanta, and other local employers.
Green stewardship
"The proximity of Emory Point to our campus will enhance the social and intellectual vibrancy at Emory by providing housing, dining and retail venues for faculty, staff and students," says Mike Mandl, Emory's executive vice president for finance and administration.
"The mixed-use development supports several of the guiding principles outlined in Emory's Master Plan, such as walkability, environmental stewardship, sustainability, and an intellectual community supported by buildings and outdoor spaces that promote interdisciplinary opportunities."
The development site is also registered for EarthCraft Communities certification, while the apartment component is registered for EarthCraft Multifamily certification.
At a recent media event to announce the project, Cousins President and CEO Larry Gellerstedt described Emory Point as "the first new retail project built in the one and a half mile area in 20 years and the largest private development start inside the Perimeter in more than three years." 
Cousins' finished plan includes extensive landscaping with over 300 new trees and café-style seating in front of shops at street level.
County zoning approvals for the site also protect 25 acres of densely wooded land behind the development as undevelopable.
 In addition to the businesses on Clifton Road, there will be a new "main street" on the interior of the Emory Point complex with additional retail outlets.  The main vehicular entrance will be at the Clifton Road traffic light in front of the CDC, with an additional right-turn only access point near the Emory Inn.
Approximately 250 new permanent jobs will be created when the first phase of development is complete.