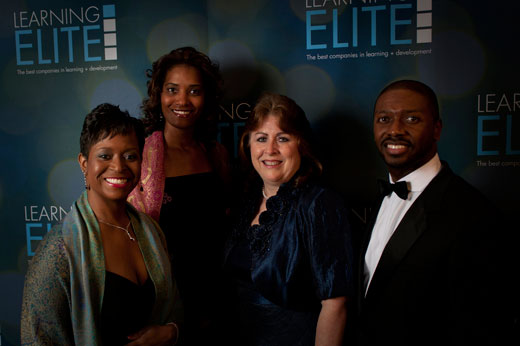 Learning Services Staff Members at the LearningElite Award Gala, pictured left to right: La Sheree Mayfield, Anisthasia Carter, Wanda Hayes, and William O'Neal. Not pictured: Anadri Chisolm-Noel and Amy Watkins. (Photo courtesy of Emory HR Communications)
By Erin Long
Emory Learning Services, a department of Human Resources, was recently recognized with Chief Learning Officer magazine's LearningElite Award that honors organizations for their work in employee learning and development.  The award, a peer-reviewed ranking and benchmarking program, recognizes high-performing organizations that employ learning and development as a strategic tool and deliver significant business results.
The receipt of this award is a testament to the high quality of programs Learning Services offers to Emory's faculty and staff.   
"This is a huge honor for Emory," says Director of Learning Services Wanda Hayes. "We were competing against the nation's top corporations.  There were 235 organizations that applied for the award – 43 were selected and we were ranked No. 22, and were the only academic institution to receive the recognition."
Emory Learning Services was specifically recognized for its Excellence Through Leadership (ETL) Program, which develops high-performing, high potential director- and above- level leaders, and acts as the pipeline for Emory's succession planning efforts.
Learning Services completely revamped its offerings in January 2008, with the exception of the ETL program.  Based on the results of a learning needs assessment and the frontline leadership framework of one of the ETL action learning projects, new classes and programs were designed and implemented. 
With several robust programs in place, Learning Services offers Emory's faculty and staff a variety of learning opportunities including individual classes, customized workshops and classes for intact teams and departments, six certificate programs and a university-wide mentoring program to help staff and faculty meet their personal and professional development needs. 
Learning Services offers programs for new, experienced and executive leaders, administrative professionals, and HR representatives.  In addition, Learning Services partnered with the Provost's Office to assist in the design and delivery of the Academic Leadership Program.
Coming in the fall
This fall, Learning Services will offer courses related to coaching and feedback, customer service, increasing your personal effectiveness, and dealing with crucial conversations.  Classes on a variety of topics from the Business of Higher Education series and courses for the HR Rep Certificate Program will also continued to be offered.
Applications for the 2012 Manager Development Program, Supervisor Development Program, Administrative Professionals Program, and Mentor Emory (for both mentees and mentors) will be available in October. 
While most courses are specifically targeted to University staff and faculty, employees of Emory Healthcare are invited to participate in those classes that meet their development needs.