Twenty years ago, Emory graduate student Donna Smith co-hosted what she calls "a political moment in time" – an open house for what is now the Office of Lesbian, Gay, Bisexual, Transgender (LGBT) Life.
Emory was a pioneer in the campus gay movement. It was among only nine universities nationwide — and the only one in the Southeast — to set up an office serving gay, lesbian and bisexual students.
Last week, Smith attended another open house, the office's 20th Annual Open House on Sept. 12, this one celebrating the intervening two decades of progress in gaining same-sex benefits, recognition, protection and a more welcoming environment for the LGBT community. 
The office has worked to help secure domestic partner benefits for students and employees, a revised Equal Opportunity Policy that includes sexual orientation, and an inclusive student health plan. There is an active alumni group.
According to LGBT Director Michael Shutt, there were 790 visits to the office in 2008-09 and 2,700 during the 2010-11 academic year.
"We have seen an increase in visits because of several intentional improvements in the office," Shutt says. 
"We renovated the office with new furniture; installed four computers for students to use throughout the day; began offering more [discussion] groups in the office in the evenings; and began reaching out to graduate students to use the space for their meetings and programs."
Emory is one of about 200 campuses across the country that have a staffed office that supports LGBT students, according to Shutt.
'We had to hit the ground running'
The Office of LGBT Life was founded on Sept. 12, 1991, as the Office of Gay, Lesbian and Bisexual Student Life. It was staffed part-time the first year by Smith and graduate student Michael Wyatt. Wyatt, a minister, died in 2009.
"My memories of Michael Wyatt are completely wrapped up in my memories of us working together to help create this queer-affirming space," Smith says.
"When the office opened, we really had to hit the ground running. We had about two weeks to set up a physical office space before fall semester.
"Expectations were high," Smith says. "There was this pent-up demand for such a space and these services."
Smith recalls people coming to the office and saying, "I can be out here," because they felt accepted.
'Full access mission' 
Shutt, who came to Emory in the spring of 2008, says he was attracted to its "full access and inclusion mission." He founded the LGBT Center at the University of Georgia in 2005.
"We want students to explore their identities. The Office of LGBT Life creates the space to allow students to do that," says Shutt, who at Emory also serves as assistant dean for Campus Life. 
Amber-Lee Leslie, a junior, says the office offers somewhere to congregate with people "who can identify with the issues you have."
Although there had been gay student support groups on campus since 1972, Smith and other students sought a formal, university-funded office. 
"The administration was very resistant," explains Sara Look, former president of the Emory Lesbian Gay Organization, which preceded the Office of LGBT Life.
However, the students convinced William Fox, then-dean of Campus Life, to back their vision. 
Harassment leads to protest
A full-time director was hired for the office in the fall of 1992, after an incident in December 1991 in which two gay male students were harassed at a residence hall after they were seen kissing.
Students, faculty and staff unhappy with the administration's response to the incident led a protest march and sit-in outside then-President James Laney's office in March 1992.
Laney became a strong advocate of the movement, and appointed a task force to recommend ways Emory could become more gay-friendly. The President's Commission on Lesbian, Gay, Bisexual and Transgender Concerns is still active (now called the President's Commission on Sexuality, Gender Diversity and Queer Equality).
Gary Hauk, vice president and deputy to the president, chaired the first commission, and says there was strong initial leadership by faculty and staff.
"Many students in those days were sometimes a little hesitant about identifying too closely with LGBT issues," he says.
Matthew Niebes is a sophomore at Oxford College and president of the student gay organization Oxford Pride.
"I grew up in a conservative environment," Niebes says, and to have an office dedicated to gays "is very important to me.
"It's nice to know I have an administrative group of people to back me up."
Becoming more visible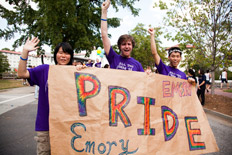 According to Shutt, Emory now has 10 gay campus groups involved in various issues.
The Office of LGBT Life and the Center for Women sponsor three discussion groups during the academic year for queer students of color, queer women and queer students of faith. The groups meet weekly and focus on sexual and gender identities.
There also are groups for queer Muslim and queer Asian students, Shutt says.
Part of the mission of the Office of LGBT Life is to promote communication among LGBT students, faculty and staff and the rest of Emory.
"Community is important; however, it can be difficult to create community when our identities are not always visible," explains the new "Out at Emory" page on the Office of LGBT Life's website. "In recent focus groups and surveys, many Emory students indicated that they do not know any LGBT-identified faculty and staff."
To address this, 90 people, including Shutt, agreed to have their pictures, names, sexual identities and gender identities visible online.
Special events
For the first time, the Office of LGBT Life plans to have a float in the Atlanta Pride parade in October. A Networking Night for LGBT students, alumni and faculty in the health professions also is in October.
A five-day international symposium "Transgender Beyond Disorder: Identity, Community and Health" starts Sept. 24 at the Emory Conference Center. Transgender became part of the office name in 1998.
In March, the Office of LGBT Life will celebrate the 20th annual Pride Awards. The event is held as close to March 2 as possible, in memory of the 1992 protest march. Honors to be given include the GALA Leadership Award, the Studies in Sexuality Essay Contest Award and the Chesnut LGBT Person of the Year Award, among others.
The Pride Awards are the signature event for the Office of LGBT Life.
Hauk feels the importance of the office is undeniable.
"The fact that there is a visible presence both representing and supporting … a significant swath of our community, makes a big difference for everybody."