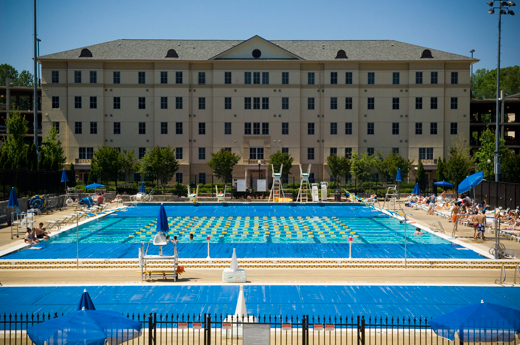 The pool complex at the Clairmont Campus.
By Leslie King
Summer at Emory is heating up with activities and offerings unique to the season.
1. The Student Activity and Academic Center on the Clairmont Campus has an Olympic-size pool, teaching pool, baby pool and dive well and a variety of memberships for faculty, staff and students.
"We have membership plans that last until Labor Day, Nov. 1 or for a full year," says Mark Fifield, assistant director of SAAC. "We have plans tailored for families and individuals."
The main pool stays open until November. To learn more about membership options, call 404.712.2456 or visit the SAAC website."
2. "Our classes are really on fire this time of year because of the excruciating heat outside," says Kezshera "Shawn" DaiShawn, director of the Blomeyer Health Fitness Center." Highlighted classes include zumba, cycling and 30-minute lunchtime sessions."
Through July 1, Blomeyer has the Clean Plate Challenge for National Fruits and Vegetables Month." June 29 is Member Appreciation Day when members can bring a guest for free and complimentary fruit is available.
Outside of the gym, Blomeyer is leading a rafting trip on the Chattahoochee River June 25. Blomeyer also has its "Outdoor Run with the Staff," free for faculty and staff, the last Friday of each month at noon.
3. The summer fitness schedule has kicked in at Woodruff P.E. Center, including yoga, cardio kickboxing, Tai Chi, boot camp, Pilates and more. Angie Duprey, assistant director of athletics, external relations, notes that the indoor cycling class, which she attends, "is well-received."" The center is also selling a limited number of memberships to non-affiliates of Emory, targeting the tennis-playing community. The Olympic-size indoor pool and rock climbing area are also popular in summer.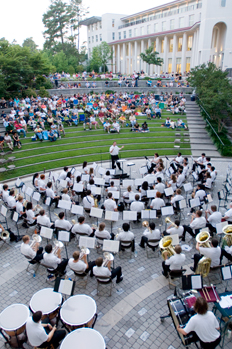 4. "Meet Me at Lullwater" is a series of four, half-hour weekly walks going on now. One set begins early Tuesday mornings, at 7:30 a.m., in deference to the heat. This set concludes June 28. On Thursdays, the walk starts at 10:15 a.m., concluding on June 30.
Walkers meet at the Lullwater gates on Clifton Road. See Melissa Morgan of the Faculty Staff Assistance Program, which is sponsoring the walks, or call 404.727.9355 (WELL).
5. The Carlos Museum is busy with camps and classes for teachers. Its big exhibition, "Divine Intervention: African Art and Religion," will continue through the summer."
The museum is hosting a wine tasting and tour of its African collections for its New Mix group — Carlos enthusiasts between the ages of 21 and 40-something. However, anyone interested can sign up for the June 29 Wine Tasting and African Collection Tour event.
6. Two free twilight concerts are on tap for July. Wind studies director Scott Stewart hosts the annual outdoor "Twilight Concerts," held at the Jenkins Courtyard of Goizueta Business School.  The Emory Summer Concert Band plays the Thursday concerts July 7 and July 14, beginning at 8 p.m. Bring picnics and lawn chairs or blankets.
7. The WorkLife Resource Center offers a series of workshops on major life-planning topics starting in July. These include the well-attended college admissions process workshop. Many high school students attend with their parents to learn inside information on getting admitted to a college of their choice.  Another session will discuss the options for paying for college. 
For those with younger children, there'll be a session on elementary education choices in the metro area. Atlanta educational consultant Sara Duke, "back by popular demand," according to the center, will lead the session.
Employees can arrange free counseling sessions with consultant BrownRichards & Associates on a variety of back-to-school needs, including services for special needs, tutors and test preparation.  See the WorkLife Resource Center's tips and other resources for back to school.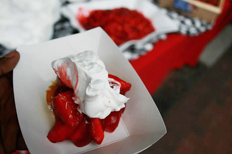 In August, Part II of the "Getting Fiscally Fit" series will be offered.
8. The newly-renamed Emory Center for Continuing Education offers a variety of classes throughout the summer. One of its latest offerings is a session on effective listening and memory development. The center also has some new certificate program offerings.
9. The Emory Farmers Market has special events each month highlighting some special aspect of summer eating.
10. Other exhibits this summer are the Woodruff Library's ongoing exhibits featuring images of Haiti after the earthquake; the early life of Emory patron Robert W. Woodruff; and African American artists. The Durham Reading Room of the Pitts Theology Library hosts the exhibit from Germany on Lutheran minister and founder Henry Melchior Muhlenberg through the end of June.