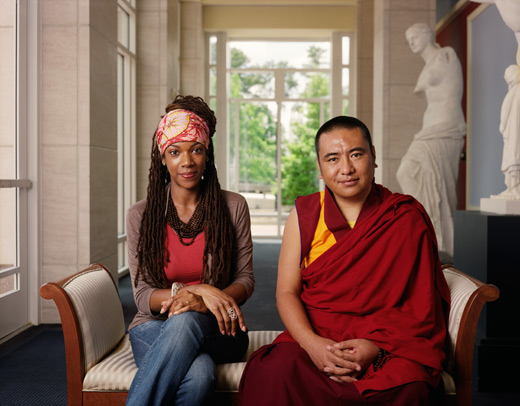 Kali-Ahset Amen Strayhorn, graduate student, sociology & Geshe Ngawang Phende, resident teacher, Drepung Loseling Monastery. Photo by Dawoud Bey
By Mary Catherine Johnson
To celebrate the Transforming Community Project's (TCP) five-year exploration of Emory's historic and current experiences of race, gender, sexuality and other forms of human difference, in 2010 TCP partnered with the Visual Arts Department to commission photographer Dawoud Bey to develop a series of portraits of the Emory community that communicates the University's cultural diversity.
"Dawoud Bey: The Emory Project" is a probing and revealing glimpse of a community that is as diverse as it is cohesive. The opening celebration is Tuesday, Feb. 1 from 5 to 8 p.m. at the Visual Arts Gallery and is free and open to the public.
During his four-week residency on campus last spring, Bey created 36 double portraits, each containing two members of the Emory community throughout the University, combined with their personal statements. 
A creative challenge for this project was selecting a limited number of campus representatives from the vast number of subjects available. Bey was clear that he wanted the portrait pairings to include a significant number of people who were not typically seen in the University's public profile, and that he wanted to bring people together who might not normally interact.
As the final portraits reveal, Bey was equal to these challenges, creating contemplative portraits that render some aspect of their subjects' inner lives visible, if only for a moment.
"This commission allowed me to raise and grapple with a new set of issues in my own work," Bey recalls. "Adults have a higher degree of self-consciousness than the teenagers I've photographed. It was hard for some people to think about themselves beyond their Emory role, or deviate from the script they think others should hear, but once they relaxed and got to an honest place, the project took on its most interesting dimensions."
With Bey in attendance at the opening, 20 of the double portraits will be unveiled, along with screenings of documentary films by Emory College's Hal Jacobs that illuminate the creative process of the project and highlight the participants' experiences.
Bey, whose work has been collected by the Museum of Modern Art in New York and the National Portrait Gallery in London, is perhaps best known for "Class Pictures," portraits of high school students that defy stereotypes of American teenagers.
This exhibition, on display at the Visual Arts Gallery last year, inspired conversations with Bey about the Emory community becoming his next subject.
The 20 portraits will be on view at the Visual Arts Gallery through March 5, before going to a permanent location on campus.
All 36 portraits will have a permanent home on a dynamic website, transform.emory.edu/dawoudbey,
 featuring both audio and 
video content.