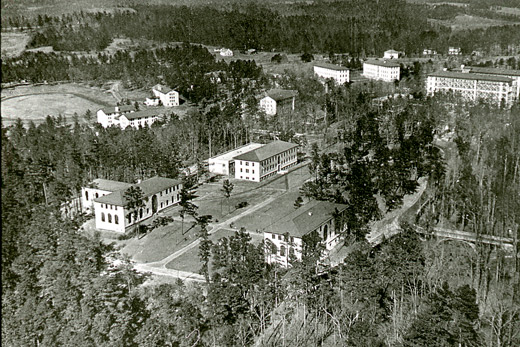 By Margie Fishman
History is often fraught with contradictions. In Emory's 175th anniversary year, the annual Founders Week celebration will take an honest look at the past while commemorating a partnership of heart and mind that shaped the University as a vibrant intellectual community.
The midwinter festival on Jan. 26 to Feb. 6 recognizes the founding of Emory College in 1836. For a full schedule of events and activities, visit the Founders Week calendar.
As part of the University's ongoing commitment to examine its racial past, Emory will host for the first time a three-day conference on slavery's role in higher education. Sponsored by the Transforming Community Project (TCP), "Slavery and the University: Histories and Legacies" will feature an international panel of scholars discussing how colleges and universities seek to reconcile and memorialize their legacies of slave labor and slave money.
Religion and slavery were intertwined when in 1836 a group of Methodists established Emory College in Oxford, Ga., a town that flourished on the backs of slave labor.
"Emory is inviting the entire community to embrace the University's full history and not leave out the unpleasant parts," says TCP Director Leslie Harris, associate professor of history and African American Studies. "When you're honest about your history, it actually encourages people to connect."
The conference will open on Thursday, Feb. 3 with a keynote address by Brown University President Ruth Simmons. In 2006, Brown's Committee on Slavery and Justice released a highly publicized report documenting that university's 18th-century links to slavery. Brown is now commissioning a slave trade memorial on its campus.
For more details, see: "Slavery and the University" focus of Emory conference Feb. 3-6

Other highlights include an invitation-only workshop on Feb. 3, where diversity representatives from 25 universities will learn from TCP staff how to use history to inspire dialogue and change around diversity issues.
"Founders Week recalls the aspirations of the people who established our institution," explains Gary Hauk, vice president and deputy to the president. "It also gives us an opportunity to reflect on the degree to which those aspirations, reshaped by the maturity that comes with age, are still appropriate, though adapted to a new day."
The conference will conclude on Sunday, Feb. 6 with a day of commemoration, reflection and celebration in Covington and Oxford, led by Mark Auslander, a former Oxford professor who now teaches at Brandeis University. Auslander will address the history of Kitty, a slave owned by Emory's first Board of Trustees chairman. Several of Kitty's descendants are expected to attend.
In a Life of the Mind lecture on Wednesday, Jan. 26, Hauk, Harris and Susan Ashmore, associate professor of history at Oxford, will team up to trace Emory's experience with slavery before and after emancipation, culminating in the official desegregation of the University in 1968.
Other Founders Week events include the annual Emory Arts Showcase on Saturday, Jan. 29, where students, faculty and staff will demonstrate their talents in music and the visual arts. Lecture topics throughout the week have a historical theme, such as "History in the News" and "The Invention of the United States: 1776-1815." And the Visual Arts Gallery will open an exhibit on Tuesday, Feb. 1, spotlighting a series of portraits by renowned photographer Dawoud Bey reflecting Emory's diversity.