From inscribing ancient symbols on clay tablets to deconstructing the memoir alongside female prisoners, Emory and Oxford students have access to hundreds of engaging course offerings this spring. Here is a sample of the intriguing topics on tap:
Akkadian

Taught By: Jacob Wright, assistant professor of Hebrew Bible
One of the most challenging languages to learn, Akkadian was spoken in ancient Mesopotamia and its writing was preserved as wedge-shaped designs on clay tablets dating to 2600 BCE. Students in this two-semester course learn cuneiform, a script borrowed from the Sumerians, by repeatedly using chopsticks to press nearly 600 signs on wet Play-Doh. At the end of the semester, students will be able to read transliterated literary texts in Standard Babylonian with the help of a dictionary.
Baseball and American Culture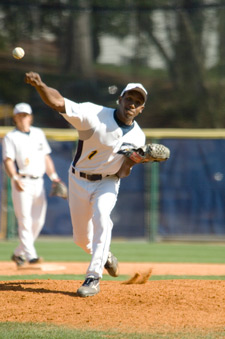 Taught By: Dana White, Goodrich C. White Professor of American Studies; and William Gruber, professor of English and Theater Studies
More than just a game, baseball has occupied a sanctified place in Americans' collective memory since its 19th century pastoral birth. One of Emory College's most popular offerings, this course introduces students to baseball icons in literature and film while examining themes of race relations and labor strife. From Jackie Robinson shattering Major League Baseball's color line in 1947 to Hank Greenberg achieving iconic status among Jewish-Americans, baseball is reflective of the changing face of America.
Biology: For Love of Insects

Taught By: Melody Siegler, associate professor of biology
Based on Thomas Eisner's highly acclaimed book, "For Love of Insects," this course examines the elaborate defense mechanisms of creepy crawlers. The tiny millipede, for instance, coats its ant attacker with bristles, muzzling it and creating an entangled mess. Eisner's discovery of insect defenses, beginning in the 1950s, established a new field of biology called chemical ecology. An avowed entomophile ("insect lover"), he illustrates the complexity of the simplest of insects. Students will study the scientific papers underpinning Eisner's work.
The History of Emory

Taught By: Gary Hauk, vice president and deputy to the president
Tracing the University's development from a small college on the Georgia frontier into a major research university, this course explores Emory within the framework of Atlanta, the South and the culture of the American university. Coinciding with Emory's 175th anniversary year, class sessions will investigate the animating principles behind the University's founding through primary sources available at the Manuscript, Archives, & Rare Book Library. Students will attend lectures during the annual Founders Week celebration and learn how the University's guiding aims have adapted to fit changing cultural and educational norms. Texts include "Where Courageous Inquiry Leads - The Emerging Life of Emory University," co-authored by Hauk and English professor Sally Wolff-King.
Memoirs

Taught By: Stacy Bell, lecturer in English at Oxford College
From memoirs of captivity to redemption, the personal narrative is a compelling tool to preserve history through the eyes of those who lived it. In this course, a dozen Oxford students will be matched with incarcerated women at the Metro State Prison for Women in Atlanta to read and discuss memoirs of social reformer Frederick Douglass and Nobel Laureate Elie Wiesel, among others. The course is organized around themes of captivity, misery and grace to demonstrate the emotional progression. Students will write and share their own personal narratives, and Oxford students will participate in volunteer training at the prison.
Methland          

Taught By: Morgan Cloud, Charles Howard Candler Professor of Law; Jeff Rosensweig, associate professor of international business and finance and director of the Global Perspectives Program; and Laurie Patton, Charles Howard Candler Professor of Religions
Emory's first all-University course. Offered by the Center for Faculty Development and Excellence, "Methland" brings together more than eight Emory faculty members, along with students from different disciplines and units of the University, to discuss Nick Reding's powerful book about the complex social, economic and political dynamics at play in the methamphetamine epidemic. "Methland" chronicles the devastating meth crisis in Oelwein, a small Iowa farming town transformed by the interactions of law, politics and agribusiness in an evolving global economy. Reding will visit with students once during the semester to discuss his work and possible avenues for change. Students will explore meth from the diverse lenses of international economics, law, biology, religion, literature, public health and anthropology.
Mississippi Delta

Taught By: Center for Women Director 
Dona Yarbrough
In this interdisciplinary engaged learning course, students will explore how the "Birthplace of the Blues" has responded to major historical shifts, such as the mechanization of farming and the civil rights movement. Discussions will highlight causes for and solutions to pressing social justice issues, including educational and health care disparities. During an alternative spring break, students will build homes in the Delta with Habitat for Humanity.
The New Testament in Its Contexts

Taught By: David Gowler, Pierce Professor of Religion at Oxford College
Part of Oxford College's new Ways of Inquiry (INQ) curriculum, this introductory course teaches students to read critically, communicate effectively and pursue knowledge independently through rigorous inquiry. Starting from scratch as interpreters of New Testament literature, students in this course will learn to recognize their ideological and cultural blinders and ask different questions about sacred texts. Students will discover how and why Biblical scholars conduct their work, and approach texts from the perspective of a first reader in an ancient context.
O.R.D.E.R.: On Recent Discoveries by Emory Researchers

Taught By: David Lynn, chair and professor of chemistry; Leslie Taylor, chair and professor of Theater Studies
The sparks of inspiration leading to scientific and artistic discoveries take many forms, yet they share more similarities than differences. From using scientific methods to determine an artwork's authenticity, to applying intuitive thinking and creative communication styles to spinal cord research, cross-disciplinary linkages strengthen the research process. In this senior capstone course, eight graduate students and postdoctoral fellows from across the biological sciences, humanities and social sciences will present the steps involved in their original research projects and share their findings. They will explain how to formulate a research plan, choose investigative techniques and communicate results. Selected through a competitive process, these "teacher-scholars" will serve as mentors to the undergraduate students, who will eventually develop their own research questions.     
Reading Alice Walker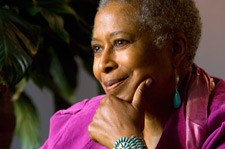 Taught By: Nagueyalti Warren, senior lecturer and director of undergraduate studies in African American Studies
The novels and essays of Pulitzer Prize winner Alice Walker have shaped the African American literary tradition, and, more specifically, African American women's literature and history. Emory's Manuscript, Archives, & Rare Book Library holds the Walker archive of journals, correspondence and early drafts of her novels. The goal of this course is to create a continuous cycle of reading, reflecting, discussing and writing about Walker's rich body of work, including "The Color Purple" and "Meridian."