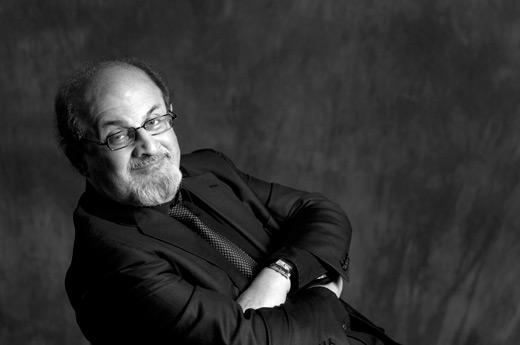 Emory Distinguished Writer in Residence Salman Rushdie will be on campus this semester for his fifth consecutive year of teaching, seminars and public lectures.
Among the events scheduled is a conversation between Rushdie and Rosemary Magee, vice president and secretary of the University, on the subject of memoir. Their conversation, which is open to the public, is scheduled for Sunday, Feb. 27 at 5 p.m. in Glenn Memorial Auditorium. Admission is free and tickets are not required.
"Salman Rushdie's work expands beyond the boundaries of fiction to consider important matters of memory and truth," says Magee. "His perspective on the history and place of memoir in our literary tradition will similarly expand our own assumptions about these questions."
Rushdie's archive, which he placed at Emory in 2007, opened to the public for the first time last year amid considerable fanfare. The archive encompasses not only Rushdie's manuscripts, drawings, journals, letters and photographs, but also an array of digital materials, including several computers, which hold the complete digital environments in which Rushdie produced his work.
In addition to the Feb. 27 event, Rushdie will participate in a Creativity Conversation March 14 with Artist in Residence Robert Spano on the impact of technological innovations on music and literature (see article "Spano here for collaboration, conversation").
Visit www.emory.edu/emoryreport for more information as it becomes available.