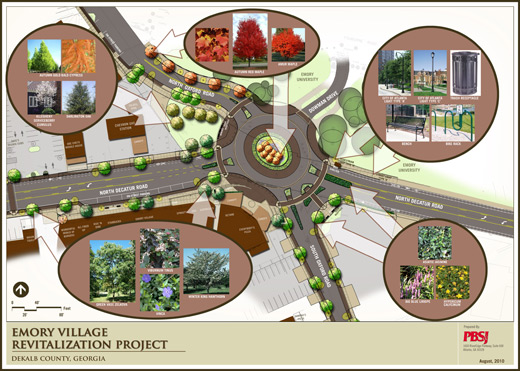 By David Payne
Physical improvements to the campus and surrounding area continue with plans for a new health sciences research building and progress in ongoing projects, including student residential buildings and the Emory Village roundabout. Here's an update on the projects.
Health sciences 
research building
Woodruff Health Sciences and Children's Healthcare of Atlanta are working hard to complete fundraising for the new health sciences research building on Haygood Road so construction can begin in 2011.  The new facility, developed in partnership with Children's Healthcare of Atlanta, will include space for pediatric research, in addition to cancer research, drug discovery, immunology and other areas.
The research building will be built on the site of the old Turman residence hall complex and is funded in part by the Joseph B. Whitehead Foundation.
The joint research initiative between the University and Children's Healthcare of Atlanta is based on Children's announced research strategic plan and vision, the Woodruff Health Sciences Center's strategic plans in research, a new pediatric center and the Department of Pediatrics in Emory University's School of Medicine.
Phase 4 of freshman housing complex
Phase 4 of Emory's freshman housing complex is set to break ground in February. The 125-bed residence hall will be located in the area between the Dobbs University Center, Trimble Hall and Longstreet-Means Hall. Occupancy is scheduled for fall 2012.
Emory Village streetscapes and roundabout
DeKalb County is nearing the midpoint of its 10-month project to improve the sidewalks, common areas and roadway on North Decatur and Oxford roads through Emory Village.
Early phases of the project are complete and new sidewalks and curbs are installed on North Decatur Road. Benches and street lamps will be installed in the coming months, along with more than 50 new trees.  
North Decatur Road was reduced from four lanes to three (one lane each direction, plus a center turn lane), and bike lanes are being added. Later this winter, the traffic lights at Oxford and North Decatur roads will be removed permanently in anticipation of a landscaped roundabout outside the Haygood-Hopkins Gate at the entrance to campus.
The entire project will be completed this summer.
For construction updates, visit construction.emory.edu.