Accreditations & Memberships
University Accreditation
At Emory University, we take our accreditations and memberships seriously. Emory undergoes accreditation at the university level and throughout our colleges and schools to ensure our educational programs meet the highest standards.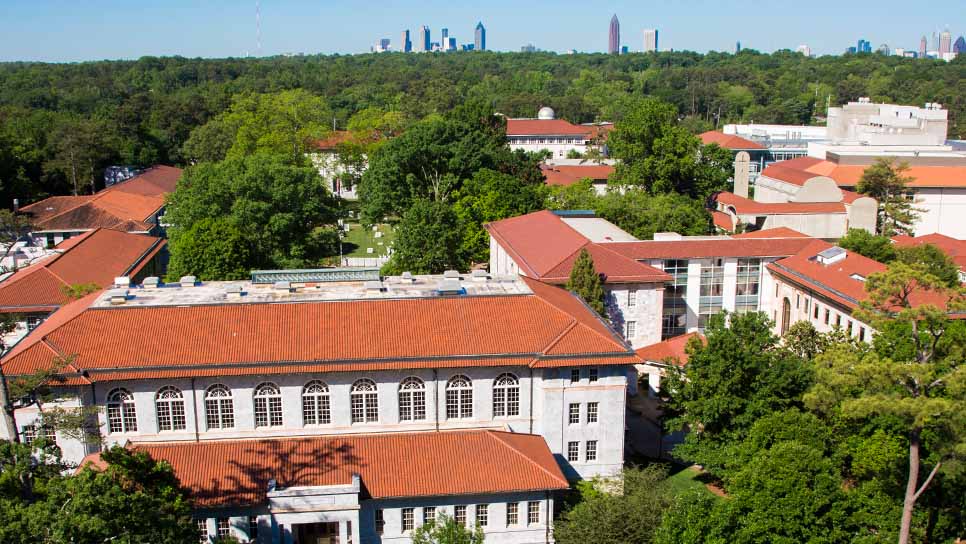 University Accreditation
Emory University is accredited by the Southern Association of Colleges and Schools Commission on Colleges (SACSCOC) to award associate, baccalaureate, master's, doctorate, and professional degrees. Emory University also may offer credentials such as certificates and diplomas at approved degree levels. Questions about the accreditation of Emory University may be directed in writing to the Southern Association of Colleges and Schools Commission on Colleges at 1866 Southern Lane, Decatur, GA 30033-4097, by calling 404.679.4500, or by using information available on SACSCOC's website (www.sacscoc.org).
Accreditation by SACSCOC signifies that the institution: 
has a mission appropriate to higher education;
has resources, programs, and services sufficient to accomplish and sustain that mission;
maintains clearly specified educational objectives that are consistent with its mission and appropriate to the degrees it offers; and
is successful in achieving its stated objectives.
Among other benefits, SACSCOC accreditation enables Emory University to maintain eligibility for student financial aid through the US Department of Education.
Emory's Reaffirmation of Accreditation extends through 2024.
Programmatic Accrediting Agencies
Accreditation Commission of Midwifery Education
Accreditation Council for Continuing Medical Educators
Accreditation Council for Genetic Counseling
Accreditation Council for Graduate Medical Educators
Accreditation Council of Pharmaceutical Education
Accreditation Review Commission on Education for the Physician Assistant
American Alliance of Museums
American Bar Association
American Dental Association
American Dietetic Association
American Physical Therapy Association
American Psychological Association
Association for the Accreditation of Human Research Protection Programs
Association for Clinical Pastoral Education
Association of American Medical Colleges
Association of Theological Schools in the US and Canada
Association to Advance Collegiate Schools of Business
Commission on Accreditation of Allied Health Education Programs
Council on Accreditation of Nurse Anesthesia Educational Programs
Commission on Collegiate Nursing Education
Council on Education for Public Health
Genetics Counseling Education Program (Provisional)
Joint Review Committee on Education in Radiological Technology
Liaison Committee on Medical Education of the American Medical Association
Memberships
Emory joined the Association of American Universities in 1995. The AAU is composed of 65 leading public and private research universities in the United States and Canada.
Emory University's other memberships include:
American Association of Research Libraries
Association of American Universities
Council of Graduate Schools
Council of Southern Universities 
Southern University Conference
American Council of Education
Association of American Universities Data Exchange
College Board
Georgia Association of Colleges
National Association of Independent Colleges and Universities
National Association of Private Colleges and Universities in Georgia
Honor Societies
In keeping with its standing as a leading research university, Emory has membership in national honor societies that recognize student academic achievement.
Alpha Epsilon Delta
This national honor society recognizes students who have achieved academic distinction while pursuing a premedical or predental program.
Phi Beta Kappa
The Emory College chapter of Phi Beta Kappa, Gamma of Georgia, was founded in 1929. Election to it is based on scholarship, breadth of culture, and general promise.
Mortar Board
Mortar Board is a national honor society recognizing college seniors for superior achievement in scholarship, leadership, and service.
Phi Eta Sigma
The Emory College chapter of Phi Eta Sigma, a national honor society for first-year students, acknowledges outstanding scholastic achievement.
Sigma XI
The Emory chapter of Sigma XI encourages original investigation in the pure and applied sciences. The chapter consists of members and associate members, including students, faculty, and staff. Although full membership is based on achievement in original investigation, undergraduate students may be elected to associate membership. Activities include meetings for the discussion of scientific subjects; financial support, through grants-in-aid, of investigations; publication of research; and maintenance of national lectureships.
Who's Who
Who's Who honors college and university students who have made significant contributions to their schools. Selection is based on leadership, service, and scholarship.
Departmental Honors
Outstanding achievement within departments and programs is recognized by election to the following societies:
Anthropology: Lambda Alpha
Biology: Phi Sigma
Classics: Eta Sigma Phi
Economics: Omicron Delta Epsilon
German: Delta Phi Alpha
History: Phi Alpha Theta
Modern Languages: Phi Sigma Iota
Music: Mu Phi Epsilon
Neuroscience and Behavioral Biology: Nu Rho Psi
Physics: Sigma Pi Sigma
Philosophy: Phi Sigma Tau
Political Science: Pi Sigma Alpha
Psychology: Psi Chi
Religion: Theta Alpha Kappa
Russian Studies: Dobro Slovo
Sociology: Alpha Kappa Delta
Theater: Alpha Psi Omega
Oxford College: Alpha Epsilon Upsilon
First-year college and university students: Phi Eta Sigma