Muscogee Territory in Georgia
In the map, the area designated with the number 116 is the tract of ceded land from the 1821 Treaty of Indian Springs.

(From the Eighteenth Annual Report of the Bureau of American Ethnology to the Secretary of the Smithsonian Institution, 1896–1897, 18th pt 2, 568–569. Washington: US Government Printing Office, 1895.)
View a Larger Version of the Map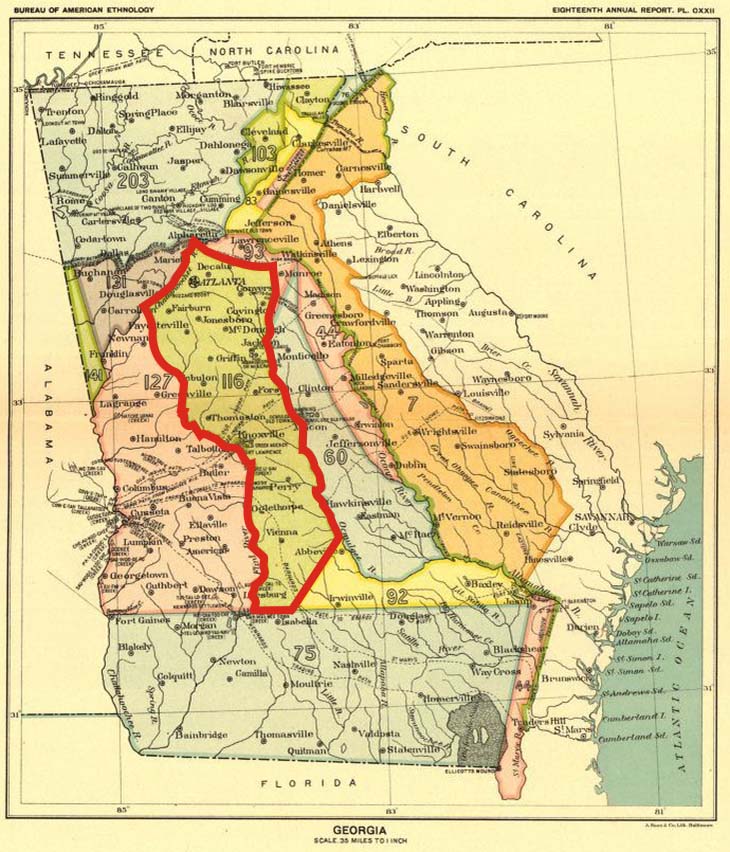 Indigenous Territories
Native Land is an online, searchable map of Indigenous territories worldwide. Community members can use the map to better understand the history of the land on which they are residing or visiting.
View North American Native Lands
Related Courses
Students are encouraged to take a course covering Native American and Indigenous content and/or topics.
Selected Courses
Tribal Nations and the United States: An Introduction
This PDF, issued by the National Congress of American Indians, provides a basic overview of the history and underlying principles of tribal governance as well as introductory information about tribal governments and American Indian and Alaska Native people today.
Indian Country 101
Education
Efforts to increase the visibility of Native American people and their contributions have been spearheaded by multiple people, departments, and initiatives at Emory. To learn more, see the following resources: